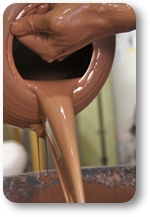 John's studio is connected to his home. Not only does this let John and his team look over the garden and yard while working, it allows John easy access to ceramic pieces at any point in the process. This is especially important when pieces have to be particularly dried to be worked on.
John's studio is two levels -- the top is where the raw clay is stored, pieces are thrown, we clay is worked, and finished pieces are shipped.
The lower level is where the pieces are glazed and fired, and where the inventory is stored.