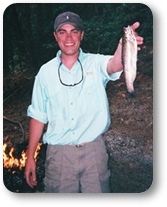 Brantley Burns
Brantley has worked for me for since 2008. He works in all aspects of production -- throwing, glazing and firing kilns. He has been especially helpful assisting me in the design of some of the studio- unique production tools such as custom clay cutters, measuring and alignment tools for our Memory Stones, and efficient drying and storage racks.
Brantley's own work has a beautiful, strong and raw quality. Many of his pieces focus on fossils and what lies beneath the surface.
"Three dimensional reconstructions of fish fossils, and fossils carved and modeled, communicate the need for patience to peer below the surface to find the challenges, lessons learned and the strength of character of each unique individual," according to Brantley. You can see Brantley's love of fly fishing and the tranquility, yet complexity, of nature that fosters reflections on life itself in his work
Brantley earned a BFA in Studio Art with a focus in Ceramics at Reinhardt College in 2003. He currently lives in Frederick, Maryland, managing his business, Crest of the Potter. Brantley has recently completed his Graduate Certificate Degree in Ceramic Arts, while he continues to pursue an MFA in Ceramic Arts from Hood College.
---