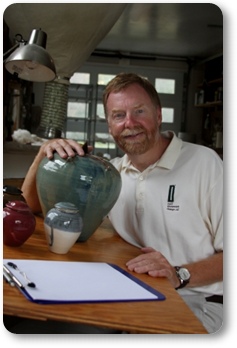 I started working with clay more than 25 years ago and it has been my passion ever since.
While I make many ceramic pieces, few have the importance of these urns.
When my father passed away in 2000, I was surprised by the lack of handcrafted urns in the marketplace. That is when I designed this line of urns.
All of my urns are hand-thrown on a potter's wheel, formed from stoneware clay then fired, glazed, and fired again. Forming each urn by hand allows the natural flow of the clay to come through in the final piece. It also means that no two urns will be exactly alike.
I have created a line of five urn styles and seven glaze combinations. However, if you do not see what you are looking for, or have a specific design in mind, I will do my best to accommodate your needs.
Sincerely,

John A. O'Neill
President