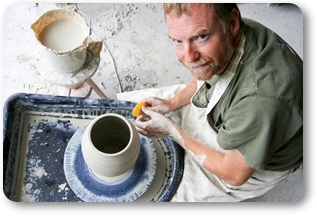 John started working with clay in high school and it has been a part of his life for more than 30 years.

In college John continued working in ceramics and art. While at Frederick Community College he had a show of his pottery, shared with a two-dimensional artist and professor at Hood College.


While at the University of Maryland, which at the time had no formal ceramics program, John had a space in the ceramics lab. John took numerous art history classes and graduated with a concentration in Radio, TV and Film. In addition, John formed a video production company which produced a video called "Welcome to Washington," which played in a prominent DC hotel.
This started John's marriage of business and art, which would help him later in life.

John spent more than 20 years in finance, including banking, trust and securities brokerage. He decided to change careers and return to his first love of working with clay, adding his business experience to create a successful venture.


John made the cremation urns for both his parents. This sparked an interest in these very special vessels. John created a full line of urns that are now sold in funeral homes throughout the country.


The concept of art that is tangible and accessible has always been important to John. That is why he produces a full line of cookware, dishware and barware that is not only beautiful but totally functional and suitable for everyday use.


John's most recent addition is a line of handthrown sinks. These are paired perfectly with concrete counters and vanity tops, also made by John. The ability for John to flow the design elements from the sink to the counter tops and vice versa make these unique pieces.


Making pieces that can bring a smile, or in the case of an urn, comfort to generations, gives John a wonderful sense of purpose and inspiration.